It's too early for me to draw a conclusion. The story behind each Pokémon is very meaningful to me. That's one of the reasons why I like to watch the anime and movies. I like to experience the Pokémon in a way that, most of the time, we can't in the game. The story is so crucial to me that until I fully understand the one behind Zygarde, I can't form a substantial opinion. We know too little as of now, but from what we know I like the general idea. I'll speculate from the info they have given us.
Zygarde 50% Forme
Well, that's the old Zygarde we know. A legend meant to watch over and maintain the local ecosystem.  We meet him in Terminus Cave all the way to the east of Kalos. Look at it. Does he seem fast enough to go immediately all the way to Geosenge, the west-most city of Kalos in the other side of the region, and prevent Team Flare from using that big flower cataclysmic weapon? Nah… [even though he can have a speed stat of 317 with beneficial nature and ev trained (which he has a low chance of having, we all know that… source: soft-reset experience)]. BUT... what if he could leave parts of himself scattered throughout Kalos.
That's when we meet: Zygarde Cell
Very convenient ability that, now we know, Zygarde has. So it's leaving a lot of his Cells throughout the region. However, the Cells don't possess any will or thought process. They're just cells. How to make them useful? And that's where the difference between Core and Cell lies.
Zygarde Core
It leaves small parts of its brain scattered along with the Cells. Wynaut? xD Some self-aware Cores that can communicate with the Cells and other Cores via telepathy would solve that problem. "When a change occurs in the local region's ecosystem, Cores have been known to take action." Now the speculation begins (still, an obvious superficial idea).
"Cores have been known to take action." Imagine an ecosystem imbalance taking place in Coastal Kalos. Zygarde 50% Forme is all the way back in Eastern Kalos, but its duty is to maintain the ecosystem balance. So a Zygarde Core in Coastal Kalos takes action by uniting the cells around there until the point where they are 10% of the total of cells and can actually do something about whatever is happening.
Zygarde 10% Forme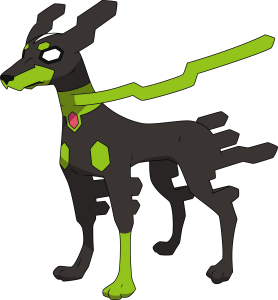 The dog. "Capable of traveling over 60 mph (100kmn/h), it defeats enemies with its sharp fangs and its incredible speed." Well… why a dog? Only the story can fully explain this, but there are reasons one can come up with for that choice. First of all, its speed is one of the main factors. The Cores will gather Cells in emergencies. Speed is more than welcome in those cases. A dog can be fast. So, due to logic, a dog is a plausible form for the Core to take. The second reason I can find, and one that only the story can ascertain, is that dogs are humans' best friends. I bet a lonely Core watched some trainer with a dog Pokémon having the time of their lives and from then on they imitated that Pokémon, which I would say it's a Houndoom. It even copies the dog collar and nameplate. Again, speculation and some dreaming of my part
Last but not least: Zygarde Complete Forme
"This is the perfect Forme that Zygarde takes when the Core gathers 100% of the Cells. When the ecosystem is under threat, and the Core concludes that the 50% Forme will be unable to deal with it, the Core takes on the Complete Forme. Its power is said to be greater than that of the Legendary Pokémon Xerneas and Yveltal!"
In this Zygarde form, one thing that stands out is the coloring. Xerneas' blue and Yveltal's red draw attention and might even put people in an alert mode. A giant humanoid form with the other two legends' colors adorning it. Fusion? Transformers? Megazord? The colors, I see as mere indicators that Zygarde is the balance element between Xerneas' life and Yveltal's death. The balance of an ecosystem needs both life and death. Now why the humanoid form? Is that form its original one? Did watching humans throughout the years make him take that form? I would like this approach that Zygarde appreciates "well-intentioned" humans and their part in the balance of the system and adopted that form.
In XY, Zygarde was nothing but a random legendary that many players did not even get to encounter since it was hidden in a cave that was hidden in a forest. Now it's Zygarde's turn to have the spotlights attention. And it already does. I don't see it as Game Freak taking another creative course. It is simply a more complex idea for Zygarde and, more importantly, an exception. These aren't the regular form variations we have known. They are more story-related and I like them as exceptions. I don't want them to be commonplace in the next games, and I really believe they aren't going to be. But as exceptions, I like the idea."
P.S.: instead of writing the 2-page HW essay, I wrote this one x.x