I am a huge sports fan, specifically baseball. As a baseball fan, I know the importance of momentum in any competition. To win any game, you need things to fall your way at some point. But what if I told you that you could create your own momentum?
That is the premise of the type of team called VoltTurn (combination of Volt Switch and U-Turn). Through this guide, I hope to illustrate the benefits of Volt Switch and U-Turn and try to show how these moves can interact on a team to never let your opponent gain the upper hand.
WARNING: This is one of the more advanced and hardest strategies that you can run. It requires a very broad knowledge about the metagame, not only insofar as what sets and moves a Pokémon is likely to run, but even further, knowing based on a team's structure and composition which of those sets and moves each member of the opposing party is likely to use. I am by no means an expert, but I do have a grasp on how the style works.
Lets start at the beginning by looking at the two moves in question here and studying what benefits there are to running them. Volt Switch is a base 70 power Special Electric Type move with no priority that causes damage and then immediately switches the Pokémon out after causing the damage. U-Turn is a base 70 power Physical Bug Type move that has the same effect. To most people, these are moves for Choice Scarf users to cause damage without being locked into a move or something to use on a slow Pokémon to get a sweeper in. And these are very good uses for these moves, but they are so much more than that. They provide something called "Switch Initiative", which simply put is the advantage gained by using one of these moves. But what is that advantage? We are about to find out.
The actual definition of Switch Initiative in a nutshell is being able to switch out a Pokémon during the attacking phase of the battle, thereby granting yourself either partial or full knowledge of your opponent's next move. That is the best I can articulate it, because it is one of the most difficult things in Pokémon to quantify. Let me break it down.
Scenario 1: Your Pokémon is slower
You have an Air Balloon Magnezone in and the opponent has a Venusaur, and you suspect it is a Mega Venusaur. He can't do much to you, but you can't do much to him either. Either one of you could be tempted to stay in, and this turn could end up being a game changer if one of you can get the momentum. You don't see any Ground types on the opposing team, so you decide to use Volt Switch. If the Venusaur stays in and Mega Evolves, you can see that before your move. Not only that, since you're slower, you'll see what move he makes, meaning you will know if it's an offensive or a defensive Venusaur, and as Magnezone uses Volt Switch, he will let you make your switch after Venusaur makes his move and shed any Leech Seed, but not giving the opponent a free move on a hard switch on the following turn. If he switches, you'll see that as well, as it will happen before Volt Switch, so you will know what his switched Pokémon is before you choose your switch in, but on the same turn, so you now have an advantageous matchup on a Pokémon that hasn't gotten any chance to set up.
Scenario 2: Your Pokémon is faster
You have a Choice Scarfed Magnezone, and the opponent has a Venusaur. You know you outspeed him, and you know you can't do anything to him. Just use Volt Switch. If he switches, you'll know it before Volt Switch happens and you can switch accordingly. If he doesn't, you'll know he probably has Hidden Power Fire and can make your switch to handle Venusaur, because you'll know if he's Mega or not as well.
Do you see now how that dynamic works? The basic concept is delaying your switch to glean some intel on your opponent's turns and thinking. Knowing priority order and being able to use things that most player overlook to form conclusions is the premise of this team, and takes a good knowledge of the metagame to be able to form conclusions effectively. Once you are able to form them effectively though, you can reliably predict your opponent's every move before he makes it. That's kind of an advantage.
Of course it's much more than this. Each situation will have certain obvious bits of information, and also some much deeper and hidden bits too. The only real barrier to VoltTurn is a grasp of the nuances of Switch Initiative. Once you have that, there are only a few other things to consider.
So armed with this knowledge, what do we do now? We seek out Pokémon that can use these moves. Just consult my handy team building guide, and try to match up types and moves together. I will add some tips and tricks here to make the most out of your VoltTurn team.
Typing
The biggest factor. You will be switching a LOT, so having a team that can cover it's own weaknesses is not just important, it's vital to your success. You simply will not win without a solid typing lineup, both offensively and defensively.
Hazard Control
You absolutely must keep hazards off the field. Your team is predicated on switching, so if you neglect hazard control, you will lose so much unnecessary health that the opponent won't even have to do anything. It's also nice, since this style will force a lot of switches, to have some hazards of your own.
Choice Items
It's no coincidence that I just posted a Choice Item guide, I had to write that one to be able to release this one. Choice Items will be a huge boost to your team, because Choice Scarf helps catapult Pokémon around, and Choice Band/Specs will greatly benefit you because, due to the hit and run nature of this type of team, you will probably not have a setup sweeper, so attack boosting has to be accomplished in other ways, and Choice Band/Specs is probably the best way.
Caution
Be careful, because this type of team will not fare well with a Pokémon that is allowed to set up. A VoltTurn team must always be ahead of the other team; it can never be reactive. This is why it is one of the harder strategies to run; it requires you to be at the top of your game at all times, because it is the most unforgiving of the playstyles. But there is nothing like getting into your opponent's head because he can't get a clear window to set up his team. It is such a rewarding experience.
So let's look at some potential Volt Switch and U-Turn Users that are good options for a VoltTurn team.

Mega Manectric is the best Volt Switch user in the game, bar none. He is fast, has a great attacking stat, and also has Intimidate, which works really well with switching in and out. There was never a Pokémon so cut out for a particular role, if you aren't using Volt Switch on Mega Manectric, you aren't using it correctly.
Manectric @ Manectite
Lightningrod (Intimidate)
Timid Nature
4 HP / 252 SpA / 252 Spe
-
Volt Switch
-Thunderbolt
-Hidden Power Ice
-Overheat
Overheat fits well with the high volume of switching. Otherwise, you've got BoltBeam coverage, and Overheat fills in the coverage gaps quite nicely. Another thing to remember, although I don't recommend making this a habit, is that after an Intimidate, you can take a non boosted Earthquake from a Garchomp and have a 75% chance to kill it with HP Ice, 100% if you have Stealth Rock up. Very, very underrated bulk makes this Pokémon one of the most versatile and easy to fit onto a team.

Mega Beedrill has one of, if not, the most powerful U-Turns in the game. Adaptability U-Turn deals massive amounts of damage, and Beedrill's speed keeps it out of harm's way.
Beedrill @ Beedrillite
Swarm (Adaptability)
Jolly Nature
4 HP or Def / 252 Atk / 252 Spe
-
U-Turn
-Poison Jab
-Drill Run
-Knock Off
Literally, just click a move. U-Turn is actually the preferred move here, solely because it's a powerful bug type move with added benefits. The rest is for late game when no switching can be done. Don't forget that U-Turn is your primary STAB move and can be used late in the game when Beedrill is your only Pokémon.

Mega Ampharos
Ampharos @ Ampharosite
Static (Mold Breaker)
Modest Nature
252 HP / 252 SpA / 4 SpD
-
Volt Switch
-Dragon Pulse
-Focus Blast
-Thunderbolt
The nice thing about Mega Ampharos is that with Mold Breaker, you don't have to worry about things like Volt Absorb/Lightningrod or Bulletproof. It eases your predictions, and most people forget about it, so they still switch in that frail Manectric to take damage instead of the healing/boost they thought they were getting. Mega Fabio is a pretty durable Pokémon too with and excellent typing, so he's tough to take down and provides a nice pivot for your team.

Forretress @ Leftovers/Custap Berry
Sturdy
Bold/Impish Nature
252 HP / 252 Def / 4 SpD
-Stealth Rock
-Spikes
-Rapid Spin
-
Volt Switch
Here is a prime example of when Volt Switch is used solely for it's utility purposes. Forretress doesn't have a good offensive presence. But what he does have is utility. And he can take the hit, and then give you that clean switch into your counter, all while keeping hazards in check for your team, something very coveted by VoltTurn teams.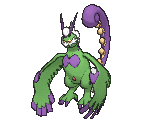 Tornadus-T @ Assault Vest
Regenerator
Timid Nature
132 HP / 160 SpA / 216 Spe
-Hurricane
-Focus Blast
-Knock Off
-
U-Turn
Very inaccurate, and not my favorite set, but it illustrates a good point. U-Turn is great with Regenerator, because it is basically an attack that gives you all of the already discussed benefits, but also gives you 33% health back. It's a great option, and a VoltTurn team would be hard pressed to find a better one.
--
There are countless other examples of how to use these two wonderful moves. Truthfully, their utility is so great, that almost any Pokémon that can learn them can benefit. You can use them to do much more than cause damage, and I hope that this article has helped you to realize the power behind Volt Switch and U-Turn.
If you have any questions at all, please ask them, the concept is simple on the surface, but it took me FOREVER to understand the flow of a VoltTurn team, mainly because I didn't ask questions.