USING ROLE PLAY IN DOUBLES
Role Play
Quote :

The user mimics the target completely, copying the target's natural Ability.
Probably most of us have forgotten that Role Play exists as a move. Moves like these rarely get usage in Singles but finds better use in Doubles or Triples.
This will hopefully give an example on how Role Play can be taken advantage of. I've tried this team online and, well, if I'm on the receiving end of this gimmick, I would definitely not be happy.
Good thing only Smogon bans OHKO. For Battle Spot, it's perfectly usable.

Pidgeot @ Pidgeotite
Big Pecks --> No Guard
Timid
252 Speed, 252 Special Attack
Heat Wave
HP Ground
Hurricane
Air Slash
Standard Mega Pidgeot Set. Pidgeot's main role is to provide No Guard. It's secondary one is to try to eliminate threats to Landorus until it is able to start attacking on the following turn. Why...?

Landorus-Incarnate @ Focus Sash
Sheer Force
Jolly
252 Speed, 252 Attack
Role Play
Fissure
Rock Slide
Knock Off / Bulldoze
...Because Landorus' first turn is to use Role Play to imitate Mega Pidgeot's No Guard.  With No Guard, Fissure is 100% accurate. You can also try a mixed set for accurate Focus Blast. The other moves are just filler. Landorus will be holding a Focus Sash just in case.
Therian form could also be used but has less base speed than Incarnate. If you choose to go Incarnate, Sheer Force is better than Sand Force to still pack a punch with Rock Slide / Bulldoze just in case you won't be using Fissure.
Sheer Force Lando is transfer-only though, sadly. But the gimmick still works with Incarnate Sand Force as well as Therian.
=========
Any No Guard user can be used but Mega-Pidgeot seems to be the fastest one and thus able to hit first and possibly knock out threats to Landorus. Landorus must be kept alive as much as possible.
So why not try it out? The gimmick gets pretty stale fast but it's perfect if you happen to encounter stall / evasion Doubles teams. It's rare, I know, but they still exist. And if you for some reason decided, just this once, to not carry Taunt in one of your mons, it's going to be frustrating to get past stall / evasion Doubles teams.
Lapras is also an option since it can learn three OHKO moves: Fissure, Sheer Cold, and Horn Drill. However, it's slow. I've never tried it in place of Landorus but I guess its bulk will help it survive a couple of hits.
=========
THREATS





Taunt Users
If your opponent can read your strategy, Taunt will prevent you from doing this. However, rarely do people in Doubles expect Landorus to carry Role Play, so it will catch a lot of people off guard.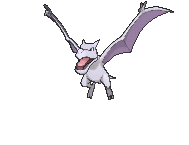 Faster Opponents
I put Aerodactyl as an example since these two Doubles leads are weak to Rock-type moves. Aerodactyl, which loves to spam Rock Slide in most Doubles formats, will outspeed you. Greninja is also a threat and will gamble into which Poké to target first. Scarf users are also obvious threats.


Trick Room Users
Trick Room users are usually bulky and most likely both opposing leads will still survive for the next turn.



Sturdy Users (also those with Focus Sash)
Sturdy will be unaffected by OHKO moves (well, leaving them with 1 HP) as well as Focus Sash users. But since Mega Pidgeot is normally faster, it will deal some damage and break Sash or Sturdy and Landorus is probably just going to clean up afterwards. Examples of common Sturdy users in Doubles are Magnezone, Sawk, Aggron, Gigalith, Carbink. Notable common Focus Sash users include Weavile and Garchomp.
==========
WORKS TO YOUR ADVANTAGEProtect Stall
Protect is so common in Doubles that a considerable number of opponents run it on the first turn for scouting attacks. It's basically a free turn to use Role Play.
So profit!