Reuniclus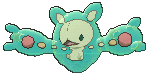 Serebii Link
Reuniclus is a neat Pokemon in a lot of aspects. It has, arguably, three of the most useful abilities in the game, in Magic Guard, Regenerator (its Hidden Ability), and Overcoat, which many forget now has the niche over Magic Guard in that it provides immunity to Powder Moves, giving it, already, a vast amount of options in the game. Give it a fairly good movepool, and you've got a very versatile Pokemon. A really good Special Attack stat along with surprisingly stout defenses also gives it a nice defensive presence.
These benefits do not come free of charge, though, as this Pokemon has some serious drawbacks. The first and biggest drawback is its typing. Pure Psychic is about as bad as you can get for a typing. One STAB, resistances to only Psychic and Fighting, and three weaknesses (including a huge one to the ubiquitous Knock Off, which incidentally is almost guaranteed to get rid of its item, given it's low speed stat) make for a combination that accounts for it's lower performance this gen. But don't let that stop you, it is a great Pokemon, and shouldn't be overlooked as easy to beat, because even without an item, it can still run right through a weakened team.
Proposed SetsSet 1 : Calm Mind
Ability: Magic Guard
Nature: Bold
Item: Life Orb/Leftovers
IV spread: 31/x/31/31/31/31
EV spread: 252 HP / 252 Def / 4 SpA
Hidden Power: None
Moves:
-Psyshock/Psychic
-Focus Blast/Shadow Ball
-Recover
-Calm Mind
This is definitely Reuniclus' best shot at sweeping. A Bold Nature will get your defense as high as possible, with your Special Attack/Special Defense getting boosted up with Calm Mind. Magic Guard does not protect against status, but it does prevent damage from status, so you cannot be Toxic stalled or Burned to death.
The first slot is STAB. You have to decide what you want more, the ability to hit on the defensive side, or the increased power of Psychic. Personally, I usually always opt for Psyshock, because there will be special walls switching in to take your hits. The second slot is what your team doesn't handle. Both of those moves together provide perfect coverage, so if you have a Ghost Type already, choose Focus Blast, and vice versa. Recover is something that most setup sweepers would kill to have, and it's the reason this set is so good despite the speed that Reuniclus possesses. Calm Mind is of course the basis of the set.
You can play this a little more aggressively than most sweepers. Setting up early is a cardinal sin in competitive battling, but with Magic Guard and Recover, you can afford to be a little more reckless seeing as status and damage (and hazards) won't really slow you down. And when you decide to go for it and set up, you can use Recover to secure more than one boost. Plus, you receive no damage from Life Orb. Leftovers is an option for a more defensive approach, but the free power from Life Orb is tough to pass up.
Importable:
Proposed SetsSet 2 : Assault Vest
Ability: Regenerator
Nature: Modest
Item: Assault Vest
IV spread: 31/x/31/31/31/31
EV spread: 252 HP / 252 SpA / 4 SpD
Hidden Power: None
Moves:
-Psyshock/Psychic
-Focus Blast
-Shadow Ball
-Psychic/Psyshock/Energy Ball/Hidden Power
I'd be remiss if I didn't include an Assault Vest set. Reuniclus is very overlooked when it comes to this set because of Magic Guard, but Regenerator can be equally useful and much more frustrating to your opponent. It loses access to Recover, which is indeed a bad thing, but Regenerator makes up for that and allows you to sponge special hits with relative ease (110 base HP and 85 base SpD is really quite tough) and just switch out and recover any damage. Unless you're facing down a Pokemon that has already boosted it's Special Attack or is holding a Choice Specs, you can unleash a bomb from that great Special Attack with no setup required.
First slot is your obligatory STAB, again, you have to choose coverage vs. power, and this should probably be decided based on the rest of your team. Focus Blast and Shadow Ball provide perfect coverage, so those go hand in hand. The last slot is very much a team preference. In my opinion, taking another STAB is probably the best way to go. It allows you to hit things specially and physically, giving you great STAB options and potentially catching something off guard who thinks you only have one STAB. The fact that Focus Blast and Shadow Ball hit the things that resist Psychic/Psyshock and themselves provide perfect coverage is more reason to go with double Psychic moves here. But if your team finds itself utterly unable to deal with Water Types, Energy Ball is an option. As are the various Hidden Power types.
This Pokemon is a bulky pivot and should be used this way. Don't try to sweep teams with it, and don't be afraid to switch it out, it loves that. As Magic Guard is no longer the ability, you need to find a way to deal with Hazards and status spreaders, because the more of these things that stack up, the less effective each switch is going to be. This works great on teams the like to switch, either a VoltTurn team or a Bulky Offense team, as these generally have ways to deal with status and hazards as they are the most affected by them.
Importable:
Proposed SetsSet 3 : Trick Room
Ability: Magic Guard
Nature: Quiet
Item: Life Orb
IV spread: 31/x/31/31/31/0
EV spread: 252 HP / 252 SpA / 4 SpD
Hidden Power: None
Moves:
-Psyshock/Psychic
-Focus Blast
-Shadow Ball
-Trick Room
Reuniclus makes a great user and abuser of Trick Room. The set is pretty straighforward, you want it as slow and powerful as possible, and you want the best coverage moves on it as possible. You want Magic Guard, as it will protect you from the Life Orb damage you're going to be racking up.
This set can be used in Singles or Doubles, nothing really differs as Reuniclus' best moves hit single targets anyway. No Recover means this is a very offensive Pokemon, and you really shouldn't run Leftovers, as you're going to need that pop that free Life Orb provides.
Importable:
Other Stuff
While I'm not going to take the time to write out a full write up on these sets, I will mention them as interesting options that Reuniclus can (but maybe shouldn't) run.
A
Rain Dance
set can be run, as odd as it sounds. Reuniclus has access to Rain Dance, and with either a Damp Rock or not, it can set up Rain for Singles or Doubles. It should be set up similarly to the Trick Room set, just insert Rain Dance instead and go for Modest over Quiet. The interesting wrinkle this set carries, though, is that Reuniclus, despite not getting Thunderbolt, gets access to it's bigger, albeit much harder of sight brother, Thunder, which has perfect accuracy in the rain. The problem is that the other moves are really good, so it's tough to decide which, if any, to scrap.
A straight up
Pure Offense
set can also be run. It would look exactly like the Assault Vest set just with Life Orb as the item and Magic Guard as the ability. The problem with this set is that Reuniclus is SLOW, so you are almost definitely going to get hammered first turn, and since you'll likely need a Life Orb for power to differentiate this set from the Assault Vest set in terms of power, you will also need Magic Guard, meaning that you lose access to Regenerator. You can use Recover, but that kind of defeats the purpose of the set, instant constant offense.
Physical Sets:
No.